I look at my staircase and even after just a few years of being carpeted it needs to be redone.  It can become quite expensive so I have decided to investigate my options.  This article explores painting a staircase runner as an option to fitting a carpet.  I am pleased to see that if done correctly, this will be just as effective as a full carpet, more durable and easier to clean.  There are several informative blogs and videos out there.
If there's a bare wood staircase in your house, you have the opportunity for a great design accent — a painted stair runner. If done right, it will have the impact of a carpet runner, but with much more endurance (not to mention it's easier to clean).

Step One – Prime


If the stairs have never been painted, they will need to be primed. This will seal the wood and keep the paint from seeping into its pores. It also makes it more durable. Before you prime the wood, however, make sure you give the staircase a thorough cleaning. Use a vacuum to get all the dust off of the surface.

The primer can be any brand, but the finish paint should be made for floors. While priming or painting, keep in mind that you will have to use those stairs to get back up to the top. If you have a long stride you can paint every other step. When the first set dries, prime the remaining steps. That way, you can get back to the top without getting your feet full of primer. Otherwise, just paint the left half of the staircase first, let dry, and then paint the right half.

Step Two – Base Coat


A base coat over the top of the primer is critical. Don't just paint your runner over the primer, or you will have to tape again to paint the sides of the runner. A base coat should be a neutral color that will blend with your runner paint and compliment your design.

Read More: How to Paint a Stair Runner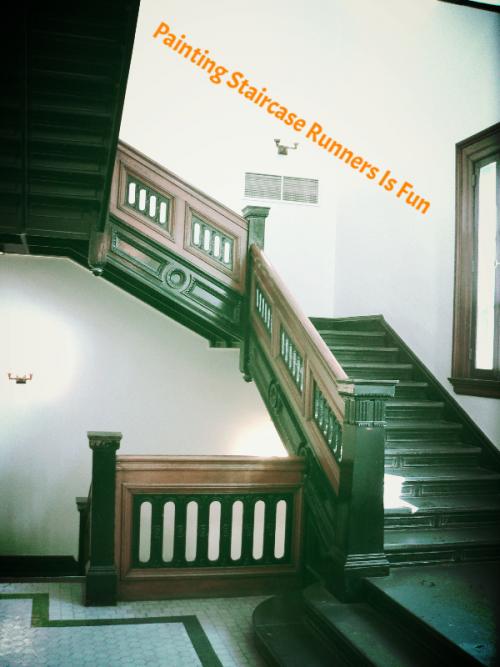 With most projects, the most important part is to make it fun.  If painting a staircase runner feels like a chore, then stick to full carpeting.  If on the other hand, the prospect sounds interesting then plan ahead and gather the information you need by looking at some of the information here.  This is one of the better videos and a great source
She knows her stuff! It is a Bank holiday and this painting a staircase runner is on the top of my list.  I am actually looking forward to the transformation.  Remember, have fun!