There are many dog owners that will stop at no expense for their beloved canine friends. So we thought we would share with you some fun and somewhat extravagant ideas for how you can truly make a dogs world spectacular.
Starting with something practical and simple…how about some outdoor doggie living in style of course.
Image source:o.lushhome
If you really want to build a log cabin for your canine friend then here is where you can find some instructions for getting you started.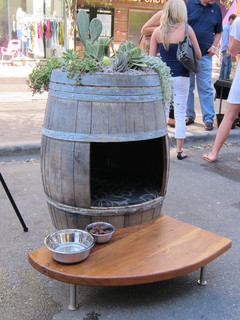 Now this was is really quite easy, and practical. If you want to provide a comfortable resting space when your dog is out back, then this may be a good choice.
We could do a whole bunch of posts about nifty outdoor dog houses but there is just so much other neat stuff to talk about that we want to squeeze some of that in here.
Make your laundry room the hub of the house for your dog
Not only does this look fantastic, there is a lot of logic behind it. Let's face it when we leave the home not all of us can let our dogs have the run of the house, so where do we put them? Often in the laundry room right, just with a big comfy pillow for them. Why not make part of the laundry a home within the home for your pooch? Not only that when it comes bath time why mess up the people bathroom, when you can have a built in doggie shower right in the laundry room!
For the Canine Water Lovers
There are some dogs that just love the water, and you may not have easy access for them. There is no reason they have to go without and you can easily build a diy doggie pool that is oh so cute and will be enjoyed by your canine friend.
image source:prakticideas
It may be pretty difficult to find the shape, but you get the idea, and to make one really easy look at the easy to follow steps in this image for creating a pool out of an old tire.
image source: ididafunny
Indoor space at a premium?
It can be really difficult trying to find some extra space for our dogs to relax in. Often we put a pillow down for them on the floor then five minutes later we are disturbing them. Here is a great solution.
image source:homestoriesatoz
image source:homemydesign
Here is a great idea for the dog who loves water who might like a ice pool too.
We have brought you these ideas to inspire you into looking at the innovative ways you can make your pet's life a lot happier and you too!