Discover Easy To Do Non-Working Fireplace Solutions
Are you lucky and have a non-working fireplace in your home?  I say lucky because when you see some of the ideas in this next article you will be blown away.  I really wish I had a fireplace like this to work with, some of the ideas that are featured are truly beautiful and would make an eye-catching focal point for any room.
Grouping logs inside a non-working fireplace is pretty par for the course, butEmily Henderson took it to the next level by painting the ends.

Of course, that empty fireplace could also be a great place to store things… like records! This is what I plan to do with mine, as soon as I can figure out how to ship all my records from Texas. Those suckers are heavy. Photo from Freunde von Freunden.

If it isn't too Farenheit 451 for you, a non-working fireplace can also be a great place to store books. From Walter Magazine.

I love the fake 'fire' in this fireplace from Brooklyn Bride. It's whimsical.

I think this might actually be a working fireplace, just styled for a shoot, but a basket of pinecones is still a nice idea for a non-functional fireplace. Plus they smell nice. From Est Magazine.
There really is an idea amongst this lot to inspire any ones taste. I must admit that my favorite is still the candles in the fire place example.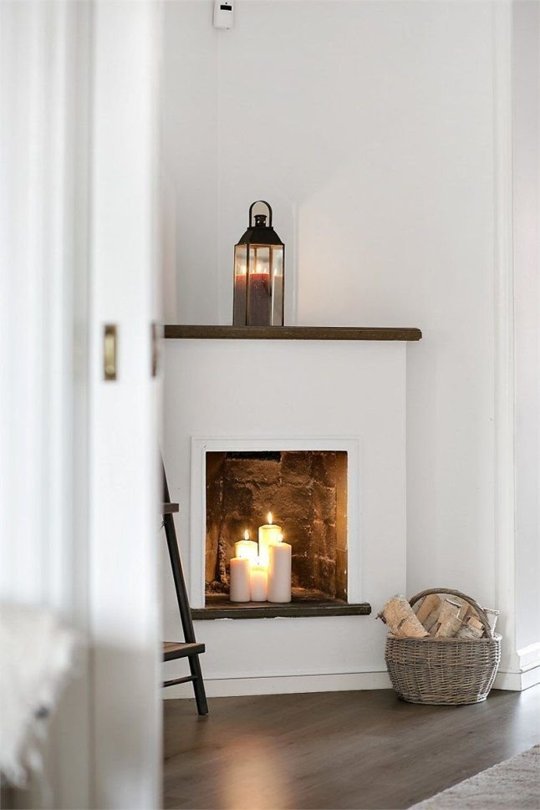 The non-working fireplace comes back to life with this idea. There is something really magical about a fireplace, even if  not working it can open your home up to a whole unique feel.  Here are a few more ideas that have been featured in a different article..

Of course, a lot of these designs and ideas can be used even if your fireplace is working in the winter Months.  By using your imagination, you will be able to add color and life to any fireplace.  I hope you enjoy discovering these ideas as much as me…